Daimler Unveils its Version of an All-Electric Semi-Truck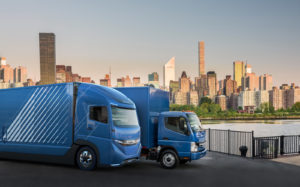 Mitsubishi Fuso Truck and Bus Corporation (MFTBC) is the first automaker to launch a brand exclusively dedicated to electric trucks and buses.
A division of Daimler Trucks, MFTBC announced at the 2017 Tokyo Motor Show it will electrify its complete range of trucks and buses in the coming years. As part of the move, the company debuts its all-electric, heavy-duty truck concept with a range of up to 217 miles (350 kilometers). Called E-Fuso Vision One, the truck represents a range-topping model for the brand's portfolio.
Story by Jason Siu / AutoGuide.com