How Much Does A Pull Tarp System Cost? – Pulltarps Price Guide

Tarp Systems for Every Purpose
Pulltarps® understands our customers are looking for high quality products for a fair price. Many state laws require hauling vehicles to be covered when driven on highways. Since safety is our main priority, Pulltarps® wants to be sure everyone in the trucking industry can afford to stay compliant with current regulations. Our tarps ensure your aggregate materials are contained in the cargo area of your vehicle and keep you legal on the road. Check out all of our truck tarp system options in our products page to keep your loads covered.
Semi-Automatic Systems – Retract Via Spring Tension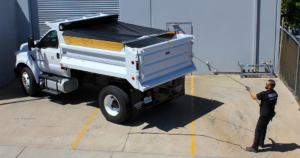 All Pulltarps® Semi-Automatic systems are easy to deploy and retract; no annoying hand cranking or heavy pulling is required. Our semi-auto systems take one light pull, and the tarp is under your control. Set the pullbar in the tarp ramp hooks to hold the tarp in place, then spring tension eases the tarp back in to the roller tube.
Check how to to extend and retract a Pulltarps Semi-Automatic tarp —>
---
Entry-Level Systems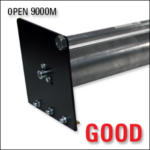 The Core™ Semi-Automatic System is our entry-level tarp system that is also available in an automatic set-up. This universal-fit pull tarp system is easy to cut to fit and install; no welding or fabrication is required. The Core™ System is great for applications where falling debris and loader damage is not a concern. Depending on the size of your truck bed, you could buy an entry-level system for as low as $525.
A step-up from the Core is our Open System. The Open System is great for applications where loader damage is not a concern because there is no housing to protect the tarp and roller tube from falling debris. The Open includes durable black, powder-coated end plates and a steel bolt-in spring shaft anchor. The Open System comes in automatic and semi-automatic set-ups, and you can get an Open 6000M semi-automatic system with a tarp for as low as $900, depending on the size of your trunk and tarp needs.
If you need to cover a larger truck body, the Open 9000M dump truck tarp system is our economical option, which holds 30′ of tarp. If you need a longer tarp system, then we recommend upgrading to the Open 9000E or the SuperShield™ 9500E Automatic systems, which hold 40′ of tarp.
Products That Protect Your Investment from Loader Damage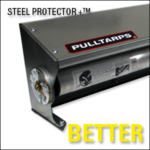 The Open and Core Systems are great for trucks where falling debris and loader damage is not a concern. But one wrong drop, and your system could get damaged. It is better to protect the tarp system with some sort of coverage. That's why we created the Steel Protector. The Steel Protector +™ Semi-Automatic Tarp System includes galvanized steel housing around the roller tube, which makes it great for smaller dump truck bodies that require some protection from falling debris. The Steel Protector +™ System and a tarp costs less than $1315, and the steel housing protects the tarp system from being destroyed by any falling aggregate.
We also offer the X-Pando™ System, which is our Expand-to-Fit dump truck tarp system. Part of the EZ-Fit system series, the X-Pando's steel housing protects the roller tube from damage and adjusts to fit any truck width from 78" to 100". The X-Pando System costs $1200 and is available in semi-automatic and automatic set-ups.
The Most Durable Tarp System in the Industry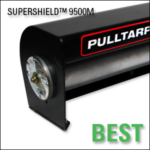 If you are frequently using your tarp system on tougher jobs, then we suggest upgrading to the SuperShield™ series of tarp systems. The SuperShield™ is the strongest, most durable Semi-Automatic Tarp System available for dump trucks. The fully-welded 12 gauge steel construction offers the best protection from falling debris for $1375. If your truck bed is larger than 18′, then we also offer the SuperShield™ 9500M, which holds tarps up to 30′ long. The SuperShield 9500M is trusted by many industrial fleet vehicles as the most durable tarp system in the trucking industry. The SuperShield™ 9500M and a Pulltarps® heavy-duty mesh tarp costs around $1725.
Pulltarps® Offers a Range of Products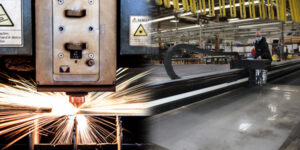 Pulltarps® manufactures our tarp systems and parts in America using durable steel and CNC laser cutting machines. When you think of how much you could pay in fines and penalties for not complying with state laws, it is worth the investment to cover your load. Pulltarps® makes a variety of products to keep you covered; from entry-level roller tube systems to fully-welded 12 gauge steel protected housings, we have a system for your needs.
Pulltarps® makes some of the most durable and high-quality tarps in the business. Our southern California office includes multiple different fabric options and a sewing department that utilizes double-needle lock stitching. Our Build-A-Tarp Configurator allows customers to create the perfect tarp for their needs. Whether you have an automatic system, a semi-automatic system, or an area that needs to be securely protected by a heavy-duty waterproof tarp, Pulltarps has you covered.