Straight Tarps
Pulltarps Straight Tarps are in stock and ready for immediate shipment. Cut using our state of the art CNC cutting machine, Pulltarps can cover any dump truck or trailer with a heavy duty mesh, asphalt or waterproof vinyl truck tarp. Straight tarps are available in black vinyl or black mesh. Custom widths can be ordered through our Tarp Configurator or by contacting our customer service department. Contact us for more information about trailer tarp systems and dump truck tarps.
Side Flaps

Our Side Flap system tarps provide maximum coverage for your trailer tarps. The tie down ropes are attached to the middle of the tarp, so that when you pull the tie down rope from the back, it will cause the flap to flip up on top of the tarp. The front of the flap is tapered so that the tarp rolls up neatly on the roller. This ground-operated Side Flap system is so unique it is actually patented by us at Pulltarps.
Tarp Patent # 5,697,664
To order Side Flaps for your tarp, contact our Customer Service team at 1-877.431.2865 to specify your truck length and width.
Lumber Tarps

The Lumber Tarps from Pulltarps are a lightweight and waterproof product that can be used to secure and protect cargo on flatbed trailers. Weighing just 98 lbs, they have 18 oz. vinyl on top and 14 oz. vinyl sides. Each tarp includes:
Each tarp measures 24′ wide by 28′ long
Overlapping design that creates better sealing
Hems reinforced with 2″ webbing and double stitching
Solid brass grommets every 2′ around the edge
Three rows of 2 inch "D" rings, box stitched with protection flaps
Universal Fit & Throw Tarps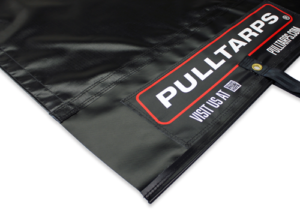 Pulltarps now offers Universal Tarps made of our high quality materials. These tarps are great for covering equipment, trucks, boats, trailers, construction sites and materials. Our high quality universal tarps are available in black mesh and waterproof 18 oz. black vinyl. These tarp covers include:
Same Day Shipping on most tarps
Grommets every 3′ all the way around
Double Lock Stitching for extra strength and durability
See our full list of Tarping Materials.
To create the custom tarp for your size and need, build your tarp online here or talk to one of our knowledgeable customer service reps at (877) 432-5771.