CES 2019: Toyota/Kenworth Team to Build 10 New Fuel Cell Trucks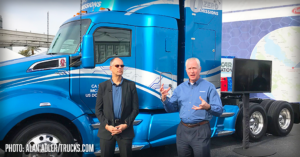 The first of 10 hydrogen-powered fuel cell heavy-duty Kenworth trucks to haul freight to and from the ports of Los Angeles and Long Beach is being assembled at Toyota Motor Corp.'s research center in Michigan, the companies said Tuesday at the Consumer Electronics Show in Las Vegas.
Toyota and Paccar Inc.'s Kenworth brand are among several partners, including Shell Oil Co., participating in a $41 million grant program from the California Air Resources Board. The ARB has a goal of zero emissions by 2035 for the 16,000 drayage trucks that move in and out of the port complex – the nation's largest – daily.
Story by Adam Adler / Trucks.com