Inside an Aurora Self-Driving Truck Testing in Texas
Story by Alexandra Skores | The Dallas Morning News | June 30, 2023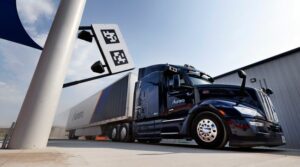 Aurora Is One of Many Autonomous Trucking Companies Running Test Routes in Texas
PALMER, Texas — Darcy Desjarlais, senior truck operations specialist at Aurora, hovers both hands under the steering wheel of Aurora's self-driving truck as it cruises at 65 mph down Interstate 45, heading in its typical route toward Houston.
Above his palms could be the future of short and long hauls for transported goods.
To his right sits Riliwan Fabanwo, truck operations specialist at Aurora, monitoring the roads for any objects, slow-moving cars or challenges the Aurora technology faces. Sensors track up to 400 meters ahead and behind the truck, nearly 360 degrees around the big rig's front, back and sides.
"I feel like this is the future for trucking," said Fabanwo, who has been with Aurora for over a year.
Investments and research into autonomous trucking have boomed over the last several years, and Texas is viewed as a prime testing ground for companies trying out the emerging technology. It only became possible through the advancement of technology, according to Gopal Gupta, professor of computer science and co-director of the University of Texas at Dallas Center for Applied AI and Machine Learning.
"Autonomous driving has a significant appeal to everybody," Gupta said.
With a trailer attached, an Aurora truck stretches 72 feet long, 8.5 feet wide and 13.5 feet tall. The cab is 30,000 pounds and hauls 50,000 pounds of goods, a gross weight of up to 80,000 pounds. Everything about the truck has a purpose.
And by the end of 2024, the same Aurora truck could be completely driverless along the same route. That's what self-driving trucking firm Aurora envisions for the future of autonomous vehicles in Texas.
The Dallas Morning News went on a ride along for a preview of Aurora's Dallas to Houston route.