Don't fall victim to truck downtime this autumn!
Jennifer Smith, contributor | www.ccjdigital.com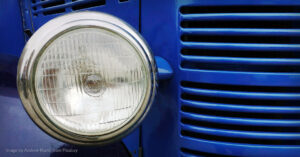 Every season comes with its own set of challenges that fleets face on the open road.
With longer nights and shorter days ahead beginning Sept. 22 (the Fall Equinox), drivers will need to focus their attention on how they can stay safe while driving during the cooler autumn months when temperatures begin to drop, running wildlife are abundant and roads are slick with wet leaves.
Let the light be your guide
The need for higher visibility increases in the fall months as the days close sooner for truck drivers on the road. Since operational lighting equipment is required from sunset to sunrise, early fall is a good time to check it for possible replacement. Fleets that avoid fixing and maintaining their headlights, marker lights and clearance lights can get pulled over for lighting violations that carry hefty court fines and demerit points against driving records. A defective headlight or taillight alone slaps 2 to 4 points on CDL licenses in most states.