FMCSA Issues COVID-19 Waiver for Truck Drivers With Learner Permits
Story by Eric Miller | Senior Reporter | www.ttnews.com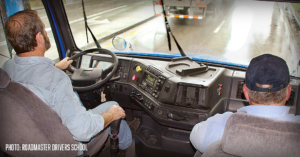 Federal trucking regulators have issued a three-month waiver that will allow truck drivers with commercial learner permits to operate during the COVID-19 emergency without a commercial licensed driver in the front seat of the cab, provided the CDL driver is in the truck.
The waiver also requires that the driver with the learner permit has evidence that he or she has passed the CDL driving skills test.
The waiver, which expires June 30, is intended to prevent a possible shortage of CMV drivers "from becoming a transportation emergency, and to continue the ability of intrastate and interstate CDL and CLP holders to transport goods in response to the COVID-19 emergency," said the waiver, issued by the Federal Motor Carrier Safety Administration on March 28.
The waiver also allows drivers to take the driving skills test in states where they are not domiciled, and regardless of where the CDL applicant received driver training.
This waiver does not apply to a learner permit holder who does not have a valid medical examiner's certificate, FMCSA said.