New dump truck app the latest in Uber-style market trend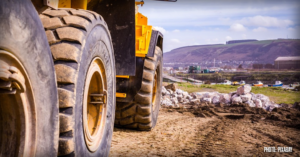 Story by Kim Slowey / Constructiondive.com
Peer-to-peer marketplace apps are all about getting rid of the often expensive and usually time-consuming intermediary process and connecting users directly to the services they need.
This way of doing business has become popular with everything from vacation rentals a la Airbnb to ride sharing via Uber and Lyft.
That desire for convenience — and the ability to save some time and money — has worked its way into the construction industry as well.
Trelar is the latest such service. The Austin, Texas-based startup is getting ready for its July launch of a networked marketplace mobile app that will provide contractors with on-demand dump truck services.
Starting July 15, contractors in need of aggregates — the company expects to expand on this category of offering — will be able to schedule and pay for their deliveries at the touch of a smartphone button. Initially, the service will roll out on the West Coast and in South Florida.
Here's how it works: First, general contractors and dump truck drivers, who are vetted for insurance and proper licensing by Trelar before they are allowed to pick up orders, submit their registrations. Then contractors can hire trucks by placing a marketplace order, which is then picked up by the first interested and available driver, or by placing an order with a trucking service they have worked with in the past but using a Trelar account. Producers of building materials can also sign up and send work orders out for fulfillment.