Officials Say Diesel Technician Shortage Starting to Ease as Recruiting Pays Off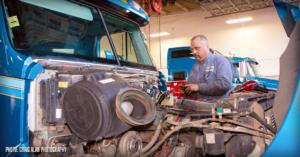 Story by Story by Dan Ronan | Associate News Editor
A leading trucking official said "there is definitely a shift going on" for the industry to address its critical shortage of technicians.
The upbeat projection from Technology & Maintenance Council General Chairman Kenneth Calhoun follows a Department of Labor report that employment of diesel service technicians and mechanics is expected to grow by 12% from 2014 to 2024, faster than the average for all occupations.
TMC is a division of American Trucking Associations.
The government report said 67,000 technicians will be needed to replace retired workers, and 75,000 new mechanics must be added to meet additional demand by 2022.