Tesla unveils all-electric, semi-autonomous big rig with re-imagined truck design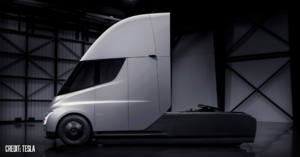 After 15 months of much-hyped speculation and teases, electric vehicle pioneer Tesla on Thursday night debuted its Tesla Semi, a Class 8 truck that the company says offers a 500-mile range on a single charge and can tow up to 80,000 pounds.
The truck's unveiling came in a special event held in Hawthorne, Calif., the home of Tesla Motors' design center and Tesla founder Elon Musk's SpaceX rocket factory. The company is currently accepting reservations for Tesla Semi for $5,000 per truck. Production of the Tesla Semi will begin in 2019, the company says. Story by Jason Cannon / overdriveonline.com.