Wirtgen Technology Days packed with demos including SP 64i slipform paver with fastest mobilization time in industry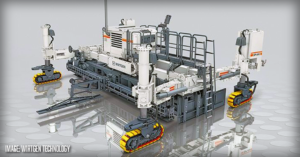 Product experts made a big claim at Wirtgen Technology Days 2018 in Nashville Wednesday. Showing off their newest slipform paver, they said the SP 64i has such quick mobilization features that it could be unloaded and set up for a job in less than 10 minutes. That's a fraction of the time that its competitors require.
The Wirtgen people had practiced for this feat, clocking themselves. And now – using a skit about a contractor needing to move quickly on a job – they had to carry this feat off in front of roughly 1,200 contractors and dealers. The setting was the large outdoor "proving grounds" where the Wirtgen personnel had put into action a fleet of machines, aimed to bring the construction site right to the crowd during live demonstrations.
Story by Joy Powell / www.equipmentworld.com.