Advantages of a SuperShield™ 9500M Pulltarps System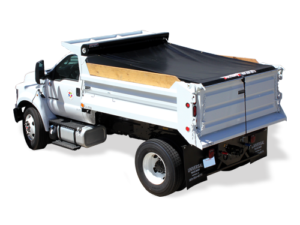 Pulltarps' SuperShield 9500M Systems is designed to allow a single user to operate the system. The spring-loaded roller tube makes it easy for the operator to extend and retract the tarp with a simple pull; no hand-cranking is required. The SuperShield system can be used on both short and long truck bed and trailer applications.
Build your custom SuperShield tarp system through our Build A System configurator!
---
Superior Product Design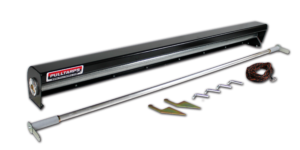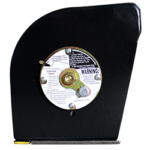 The SuperShield features radiused housing for strength against any hits to the top of the system. The housing is fully-welded and made of powder-coated steel to resist corrosion.
Whether you are hauling demolition debris from a construction site or unloading landscaping debris from the field, ensuring that the load moves safely from one location to the next is imperative. Pulltarps offers our customers video resources and technical documents below to help ensure the tarp system is installed and deployed properly.
---
Benefits
Saves time and money.
Single person operation.
Easier to extend and retract tarp.
No gearing or grease to deal with.
The system is easy to maintain and remove.
Tarp moves in and out of housing smoothly.
Housing design keeps roller tube free from falling debris.
---
Features
Holds up to 30′ of tarp.
Radiused housing for strength.
Powder-coated steel housing resists corrosion.
Fully-welded construction for superior strength.
Mounting bars make installation, maintenance, and removal easy.
---
How to add and remove tension (Video): youtu.be/bsMGvxl14Vo
How to operate the SuperShield 9500M (Video): youtu.be/FpmJAHG7ZjE
SuperShield 9500 Installation instructions: 607-0002_SuperShieldSystems.pdf