Autonomous retrofitter Starsky makes unmanned 7-mile rural road test run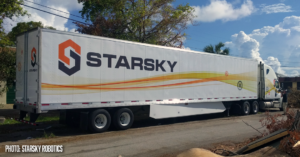 Autonomous truck upstart Starsky Robotics last month became the first player in the self-driving truck game to drive in fully autonomous mode on a public road without a person in the cab.
A remote driver more than 100 miles from small country road near the Town of Clewiston in Hendry County, Fla. placed the bobtail tractor in drive, centered the truck in its lane and then put the truck in full autonomous mode for a seven mile unmanned jaunt at highway speed. Story by Jason Cannon/www.overdriveonline.com.