Shell Debuts Starship Heavy Truck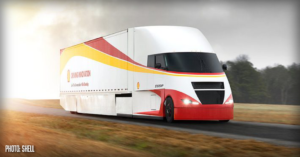 Shell and the AirFlow Truck Co. showed off their Starship Heavy Truck Project tractor this week during the Technology & Maintenance Council (TMC) Annual Meeting & Transportation Technology Exhibition in Atlanta.
The Shell and AirFlow project's goal, which began in 2015, is to use leading-edge technology and materials that are available today in innovative ways to meet the demands for fuel economy required by government regulations and the trucking industry, according to Shell. Story by constructionequipment.com.