Daimler's Electric Tractor Trailer: Driving 40-ton eCascadia big rig isn't just fun, it's electrifying!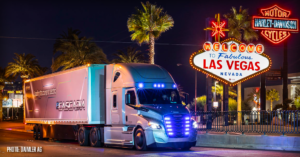 "Go slow." Yeah, you don't have to tell me twice. It's the first time I've ever driven a full-blown, road-hogging, fully loaded (78,000 pounds!) tractor trailer. Of course, I'm going to take it easy.
Why is Daimler letting me take a massive vehicle out for a spin, during 2019 CES? I don't have a Class B commercial trucker's license, and while I've driven everything from a Lamborghini Huracán to a Rolls-Royce Wraith, I've got no experience with big rigs. Story by John R. Quain / www.digitaltrends.com.