Dump Truck Hauling Fields – What do you haul?
Dump truck drivers often have to contract out their vehicle for hauling work.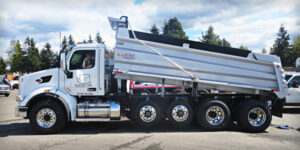 One day may include hauling loads of new foundation to a site and and the next could be removing waste and excavated materials. Though they may work with different types of materials, landscapers, contractors, junk removal professionals, demolition experts, municipal workers, and forestry workers all have one thing in common: they all haul heavy loads to or from various job sites. These jobs are often dirty and dangerous, but they are essential, and they provide services that benefit all types of people.
If you are a dump truck driver in America, you may haul different materials depending on the season and scope of work of a job.
Dirt, sod, brick and concrete removal are common services, but occasionally drivers expand their capabilities for more income. Junk removal is popular in the summer, when students move out of dorms, and snow maintenance is an option in the winter, with plowing and salt hauling. Landscape clearing and fire prevention are becoming more important to combat the threat of wildfires in the west coast, and removal of brush and forestry are essential to this endeavor. Hauling is an essential business throughout the States.
---
---
Junk Removal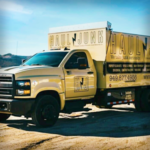 Junk removal companies are commonly hauling debris, office supplies, appliances and household junk. This can involve heavy equipment, which tends to add an aspect of danger to the job. Keeping drivers safe is always a top priority. Most dump trucks are built to be able to haul anything you throw at it, but all trucks must cover their loads to prevent anything from dropping or spilling from them. If a driver were to drop construction debris or a piece of furniture from their truck, the damage could be deadly. Any loose load that spills is a potential for a citation or an injury.
Junk removal contractors typically use HD Mesh Tarps with vinyl-coated polyester for their multi-use application on junk removal dump trucks. The mesh weave allows air to flow through the tarp, eliminating wind resistance that could cause tarp tears or abrasions. Mesh tarps are best suited for hauling debris, appliances, furniture, and other loads that need protection but do not require 100% waterproof or windproof conditions.
---
Agriculture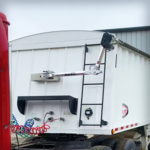 Similarly, agriculture dumpers often move feed and fertilizer to different sites. Planting and harvesting seasons mean an uptick in moving materials. Dirt is a loose material that is often used as ground cover and new foundation for fields and buildings. Growers and fleet companies who haul grain or feed know it the materials are often free-flowing and sensitive to moisture. A dump truck tarp system with a waterproof tarp can help to maintain the integrity of materials and maximize the volume that is hauled in each load.
---
Construction and Excavation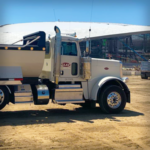 Dump trucks can also get any unwanted building debris and dirt out of your jobsite. Gravel delivery and road projects are frequently employments for municipality jobs. Working gravel pits and hauling dirt to and from work sites are profitable ways to use your dump truck. Excavation jobs often require work with heavy duty materials. Construction debris and scraps of building materials are often hauled in demolition projects. Excess waste, pipes, window frames, doors, and concrete insulation may requires a tougher tarp. Vinyl tarps are reinforced with webbing along the length of both sides, holding up under the most stringent circumstances. Pulltarps vinyl tarps are waterproof, providing complete protection from the elements. Transport experts strive to make loading and delivery at the project site easy, but they also want to be sure they are safe while on site. An automatic tarp system allows drivers to stay in their vehicle while the dump truck tarp system deploys. This is safer than being out of the truck while in operation, and safety is a top priority when working with heavy equipment.
---
Landscaping and Site Clean Up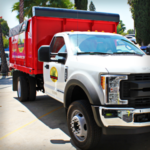 Landscaping professionals generally have to haul all of their tools as well as an array of earthen materials to job sites. Rocks, gravel, sand, trees, plants and shrubs are often hauled to residential and commercial sites. Wildland fire mitigation projects can require some heavy duty hauling. Oftentimes this requires a tougher tarp to contain the sharp and abrasive materials. Super HD Mesh is our super heavy-duty tarp material, designed to hold up under recurring and rugged usage on most dump truck bodies. Our 18oz. vinyl-coated polyester mesh tarps hold up under pressure and abrasion against sharp objects. They also keep loose materials like dirt contained in the truck-bed. Dirt provides erosion-control and planting mediums for the general landscape. Since truck contractors get paid by the load, they want to be sure they keep every bit of dirt or earthen material in the truck.
---
Asphalt Haulers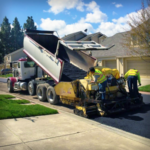 Hauling asphalt pays more than dirt and aggregate contracts, but working with asphalt has a few more complications. Some truckers complain that they must scrape the back of their tailgate to get it clean. Others complain that the heat of the asphalt burns through their tarp. Pulltarps makes tarps specifically for asphalt loads. All Pulltarps asphalt tarps are rated for 400-degree use, which means they are specially engineered to perform and hold up in high-heat environments. Our asphalt tarps are also waterproof and will not stick to your asphalt or let it burn through the tarp. In order to contain the heat within the truck bed, the tarps have securing grommets every 3 inches.
---
Conclusion
Whether you're removing landscaping, roofing, gutters or any other materials from your project, you can trust Pulltarps makes the most durable dump truck tarp systems in America. Dump truck drivers from the Florida shores to the Pacific Northwest trust our tarp systems to last through every season. Whether you work through long, rainy seasons or overly windy conditions, Pulltarps has you covered.