Freightliner's autonomous-capable 2020 Cascadia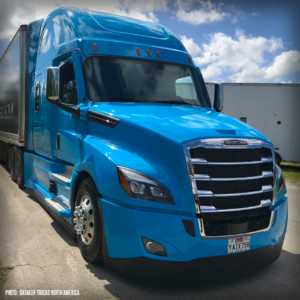 Last year was a record-breaker for Daimler Trucks North America (DTNA) as the truck maker closed 2018 with a best-ever retail sales mark of 175,950 units.
Riding what DTNA Senior Vice President of Sales and Marketing Richard Howard calls "massive momentum," 2019 came out of the gate hot. Build slots for this year are already filled and cancellation rates are 1.5 percent – about half of their normal rate, Howard says. The Freightliner brand hit 48 percent marketshare in U.S. Class 8 truck sales in January on the strength of Cascadia – the Freightliner flagship long-haul truck that got a tech and aero-rich overhaul barely two years ago, and will get another one for the 2020 model year. Story by Jason Cannon / www.ccjdigital.com.