Hydrogen-electric stakeholders agree to develop fueling standards for heavy-duty vehicles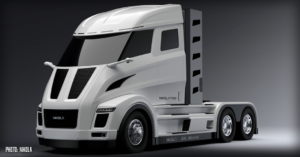 A group of hydrogen stakeholders – including Hyundai, Nikola Motor, and Toyota – have signed a Memorandum of Understanding to test heavy-duty hydrogen fueling hardware to assist in standardization and speed to market for fuel cell electric trucks.
The trio of truck and auto makers are joined by Shell, Air Liquide and Nel Hydrogen Fueling to form a cross-industry group of both vehicle and infrastructure companies with the purpose to test pre-commercial 70MPa hydrogen heavy duty vehicle high flow (H70HF) fueling hardware for future Class 8 trucks. Story by Overdrive Staff / www.overdriveonline.com.