Tesla's matte black Semi prototype makes rare appearance in Kettleman City Supercharger!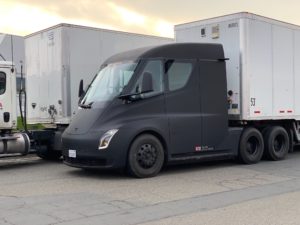 After staying under the radar for the past few months, Tesla's matte black Semi prototype has been spotted on US roads once more. This time around, the all-electric long hauler was sighted pulling a trailer at the 40-stall Kettleman City Supercharger, located between San Francisco and Los Angeles.
The matte black Tesla Semi prototype was photographed by Tesla enthusiast James Douma, who noted that he spotted the vehicle on Wednesday afternoon. In a conversation with Teslarati, James stated that the vehicle seemed to be traveling alone, as the truck only had one person inside. Such an observation is quite interesting, considering that the silver Semi test mule traveling across the United States is usually accompanied by a team of engineers. Story by Simon Alvarez / www.teslarati.com.