Western Star debuts new, lighter X-Series model!
Story by Jason Cannon, CCJ chief editor | overdriveonline.com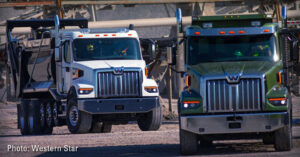 Western Star's overhaul of its vocational line continued this week with the debut of the all-new 47X.
With a standard 111.6″ bumper-to-back-of cab (BBC), the 47X will usher out the Western Star 4700, and will do so by adding significant flexibility. The 4700 is exclusively available in 110″ BBC, but for the 47X an optional 110.8″ BBC will also be made available for fleets that need to meet federal or local bridge law requirements, such as mixers or dumps.
Daimler Trucks North America Vice President of Vocational Market Development Sam Parlier called the new model a "construction powerhouse," noting with its shorter hood and up to 50 degree wheel cut, the 47X optimizes maneuverability for work on job sites and congested urban environments.