October Class 8 Orders Highest in 11 Months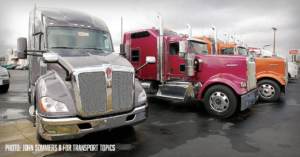 Story by Roger Gilroy / Staff Reporter / www.ttnews.com
Preliminary net Class 8 orders for October, a bellwether month, were 22,100 and the highest in 11 months, ACT Research reported.
A year earlier, net orders climbed to 43,256.
Since January, orders have failed to top 17,000 in any month, while three months stayed below 11,000 units — and analysts were looking to October as a key indicator of how Class 8 demand in 2020 would unfold.
"The North American commercial vehicle industry kicked off 'order season' in an encouraging fashion," ACT President Kenny Vieth said in a release. "While freight market conditions remain weak, the market is arguably benefiting from a substantive change in the 'must-have' tractor spec: AMT [automated manual transmissions], ADAS [advanced driver assistance systems], and superior fuel economy are considerations to offset weakness in the top line."
FTR also pegged preliminary net orders at 22,100, describing the volume as a subdued beginning to the traditional start of the ordering season.