SuperShield Electric and Pull Tarp Systems
Pulltarps™ manufactures automatic and semi-automatic tarp systems for a wide range of industries and truck classes. Our SuperShield Tarp Systems are the number one selling system, and they are known as the most durable dump truck tarping system available. Our 12 gauge steel construction offers the best protection from falling debris and keeps your system operating for years down the road.
---
SAFE HAULING IN ANY INDUSTRY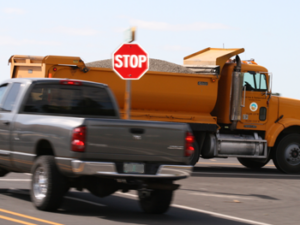 One of the most important aspects of safe hauling is load securement. Each state has it's own set of laws and regulations regarding tarping requirements. When you think of how much you could pay in fines and penalties for not complying with state laws, it is worth the investment to cover your load. Securing your load is a matter of safety and good business practice, especially in the construction, agricultural, recycling and refuse industries. These heavy-duty trucks have unique demands that require a durable load securement solution.
Each step in the hauling process poses some risk; loading, securing, covering, transporting, unloading and returning to the yard require special caution to avoid costly accidents. A high-quality automatic tarp system will reliably contain your load, maximize ROI, and create a safer work environment for employees and the public. With a SuperShield automatic tarp system, load times are quicker, and the ability to haul even one extra load per day can translate into cost savings in a matter of weeks.
SUPERSHIELD'S DURABLE QUALITIES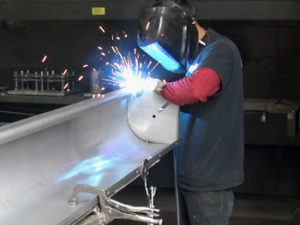 The SuperShield is manufactured and fully-welded for each order in our Southern California manufacturing facility. Our customers trust that their SuperShield tarp system will last for years of service. All SuperShield tarp systems are universal fit for dump truck and trailer cabs, and they are designed to allow a single user to operate the system for added safety and time management.
Pulltarps' customer service department works with each customer to ensure the correct fit for each truck size. Customers can be assured that each part is the same and that quality is held to a high standard with Pulltarps.
The SuperShield also features galvanized housing to protect the tarp's roller tube from any damage. You never know what could go wrong when dropping loads of debris into the back of a trailer. Pulltarps' SuperShield systems are powder-coated to resist corrosion and include steel bolt-in spring shaft anchors and mounting brackets. The SuperShield's super strong housing protects your investment and keeps you on the road.
SUPERSHIELD AUTOMATIC OR SEMI-AUTOMATIC TARP SYSTEM

Tarping a truck can be time consuming, especially if you are using a hand-crank system. The SuperShield semi-automatic tarp system retracts promptly back into the housing with one easy pull.
Semi-automatic pull tarp systems can be an economical option, but operators in the heavy-duty dump truck market typically opt for the SuperShield Automatic Tarp System to cover their load. Tarping peaked loads in end dump trucks is easy with an automatic system because the arms lift the tarp up and over the load. Pulltarps' automatic tarp systems have an electric motor to retract the tarp back into the housing simply by turning a switch.
While pull tarp systems are less expensive and can save you money initially, electric tarp systems are often ideal for both safety and business reasons. Electric tarps are safer and lower the risk of injury and lawsuits. Truck drivers generally don't have to leave the cab to cover or uncover a load, which keeps them safe and saves time in the field. Covering and uncovering a load in 30 seconds keeps the driver out of heat, rain and snow, making for a happier and more productive driver.
If an electric tarp system is out of your budget, then most contractors and construction managers opt for the SuperShield Semi-Automatic tarp system to ensure durability and safety on the road.
---
---
PULLTARPS TARPS COME IN A VARIETY OF SIZES AND MATERIALS
Excavation, construction, and paving trucks can leverage tarp options that fit electric or semi-automatic systems. Pulltarps offers 4 types of tarping materials, from our least expensive HD Mesh, to our sturdy Super Heavy Duty Mesh, to 18oz. Waterproof Vinyl, and 400° rated Asphalt Vinyl.
Online customers have the option to build the perfect tarp for their exact use, size and width of truck or trailer. Pulltarps makes some of the most durable and high-quality tarps in the business. Our southern California office includes multiple different fabric options and a custom sewing department that utilizes double-needle lock stitching to last years and years.

PULLTARPS 'BUILD A SYSTEM' CONFIGURATOR
Whether you are upgrading an existing tarp system or exploring new solutions to secure your load, choosing the right tarp system for your need is crucial. Pulltarps offers our customers the ability to to choose the right tarp system for their dump truck, including municipal dump trucks, articulated trucks, sand and gravel trailers, belly dump trailers and asphalt trucks.