Why Do Landscaping Trucks Need A Tarp System?
Landscaping trucks often need tarp coverage due to the nature of the job. So many times we see trucks with no tarp system, only to have a rock fly out the back and crack someone's windshield. Whether you are hauling dirt or work equipment, most states require trucks to be covered so that no materials are able to escape from them.
---
LEARN MORE ABOUT STATE AND FEDERAL TARPING REGULATIONS
---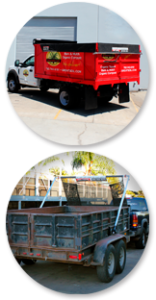 The landscaping industry requires a diversity of materials to be hauled and used. Even a properly loaded and secured truck can be damaged, or cause damage, if not properly covered. Each step in the hauling process poses some risk. Whether you are loading, securing, covering, transporting, unloading or returning to the yard, you need to be cautious and careful of any accidents. Landscape professionals in charge of transporting equipment and aggregate need to understand each risk while on the job.
Whether you are hauling mulch, dirt, gravel or sand, securing the materials in the truck is crucial. Not only could you face fines depending on your state, but, even worse, you could also injure someone in the process. It may not seem like it's a big deal if some sod or seed falls out of your truck, but the consequences could be devastating when traveling at high speeds. You could be liable for any incidents, especially if your state has a tarping law in place.
It is best to cover all truck beds with a tarp. Tarping a truck can be time consuming if you are using a hand-crank system. Pulltarps makes automatic and semi-automatic tarp systems to save you this time. Our automatic systems swiftly cover your truck bed with the flip of a switch. And our semi-automatic systems retract promptly with one easy pull. With our systems you can cover anything, including construction debris, bagged materials, asphalt, pavers, lumber, timber, fencing and other hardscape items.
---
LEARN MORE ABOUT PULLTARPS® TRUCK AND TRAILER TARPING SYSTEMS TODAY!