Semi-Automatic or Automatic Tarp System – Which One is Better?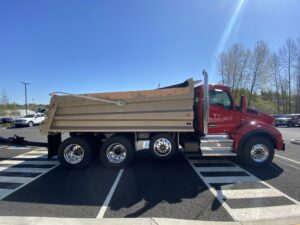 For haulers transporting loose materials like gravel, wood chips, asphalt, or dirt, the chance of debris flying out is real. This may damage other vehicles, or worse, injure fellow motorists leading to financial losses and a drop in your company's goodwill.  
This is where a tarp system comes in. It protects your load from bad weather, helps prevent accidents, and is essential for automotive safety.  
While investing in a tarp system for your truck is imperative, the question is whether you will benefit from an Automatic or a Semi-Automatic tarp system. Both options have their unique features and benefits that you as a fleet owner need to understand and assess.  
This blog is a good place to start about which heavy-duty tarp system to invest in and make a sound investment for your hauling business.  
Continue reading to know more about the two main kinds of tarp systems and their features. 
What is a Manual Tarp System?
As the name suggests, a manual tarp system is one that is operated manually with the use of physical labor. This means that it requires a person to lift and pull the tarp over the truck and secure it to the back of the truck. Pulltarps® doesn't manufacture or sell manual systems.
What is a Semi-Automatic Tarp System?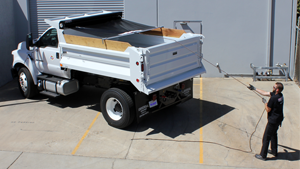 The semi-automatic tarp system is the perfect middle of the road solution between the cost-effectiveness of a manual system and the superior ergonomics and automated operation of an automatic tarp system. 
Pulltarps® Semi-Automatic systems are much easier to operate than a manual tarp system because you don't have to crank the tarp to deploy it. Thanks to Pulltarps' spring-action pull tarp system, you can quickly pull the tarp out with the pull rope over the load and secure it in place on the tarp return ramp. The spring tension holds the tarp in place.  When you need to access the dump body, just release the pull bar from the tarp return ramps and the tarp quickly and easily returns to the tarp housing. The SuperShield semi-automatic tarp system is the most frequently bought system for construction contractors.
This tarp system can be easily custom-made to fit any truck for problem unloading of your dump body.  
This system normally consists of:
System housing for roller tube protection

Semi-automatic roller tube with spring

Mounting brackets

Pull bar and nylon pull rope

Ratchet assembly to add tension to roller tube

Tarp return ramps
What is an Automatic Tarp System?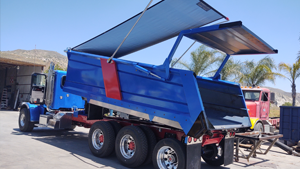 An Automatic Tarp System is one that is powered by an electric motor and doesn't need labor to operate it. When in operation, the automatic arms lift the tarp over the vehicle load and secure it tightly on top.
The system consists of these parts:
System Housing for Roller Tube protection

Automatic Roller Tube

Automatic Arms

Arm Pivots

Electric Motor

Switch kit

Mounting brackets
Automatic Tarp Systems vs. Pulltarps Semi-Automatic Tarp System: Which One Should You Choose?
Now that you know the differences between manual and automatic tarp systems, let's weigh both these options on some important parameters.
Ease of Usage
One of the most essential considerations that you need to factor in before investing in a heavy duty tarp system is how convenient and easy it is to use. Pulltarps automatic tarp systems use an electric motor and a switch to mechanically cover the truck bed. It takes less time to cover a load using an electric system because you don't have to manually pull or crank anything to cover the container. 
A manual tarp system needs someone to move it over the load and back into the tarp roller system to uncover the load. While putting it over the truck, the driver must get out of the vehicle to pull the tarp over the load and attach the end of the tarp to the back of the truck. This may take a few moments, which could mean less trips and less profit than trips using an Automatic Tarping System. 
A semi-automatic tarp system is compliant and convenient, making it a great choice for delivering your load to the job site. It allows the driver to pull the tarp with a pull rope. The rest of the work is done by the spring tension, which makes its installation quick without affecting trips. 
Safety of the Driver
An automatic tarp system, on the other hand, opens by itself. In fact, a driver can even roll out the tarp while sitting inside the vehicle or even from inside the vehicle, helping him save time while he finishes other important things. The risk of injury is also reduced drastically. 
A semi-automatic tarp system is a safe and reliable system for the driver. The driver doesn't need to use a hand crank to cover the truck with a tarp. The spring tension keeps the tarp tight, while allowing the driver to pull the tarp over the load and then easily retract the tarp system with one swift tug, when you no longer need to have the tarp deployed.  
Versatility of Use
Drivers often use automatic tarp systems for heavy duty jobs. If they need to get in and out of job sites fast, then automatic tarp systems like the SuperShield 9500E should be considered the best in the business. A smaller company that doesn't rely on swiftly moving from job site to job site might use a manual tarp system to cover their work truck. 
Pulltarps manufactures many different types of tarp materials for automatic systems. Replacement tarps are available in HD Mesh and Super HD Mesh to cover abrasive materials and peaked loads. Asphalt tarps and waterproof vinyl tarps are also available for Pulltarps' electric tarp systems. 
Pulltarps semi-automatic tarp systems are preferred by thousands of drivers for not just their durability and strength, but also for their versatility. They easily work with all kinds of dump trucks. They are available in 12-gauge steel construction, galvanized steel, powder-coated end-plates, and many more heavy-duty options.  
Affordability
Cost is one of the most important differentiating factors between an automatic tarp system and a manual tarp system. A manual tarp system is more affordable for the simple reason that it is less complicated and doesn't have any expensive electronic parts. If you are on a budget and are looking for something more economical, then a manual tarping system like the Steel Protector Semi-automatic tarp system should be your choice.  
An automatic tarp system can cost you a couple thousand dollars and even more depending on the level of durability and sophistication. However, there is another side to this; since an automated tarp system is known to increase your fleet's safety and prevent loss of cargo or expensive damages, it is said to yield a better rate of return on your investment. 
By opting for a semi-automatic tarp system, you can expect to save almost 30-40% over the fully-automatic tarp system option. This system is so durable that it works for years, eliminating the need to change your tarp system frequently. Since it is an entirely hands-on solution, you don't need to spend on hiring extra labor.  
Summing Up
Every fleet owner has unique requirements. Before investing in a tarp system, it is important to factor in things such as your budget, compatibility of the tarp system with your existing systems, and the anticipated usage. At Pulltarps, we offer superior quality and robust tarp systems to allow for better cargo management while increasing your operational efficiency and reducing costs. Get in touch with us to know about our tarp solutions and how we customize them for your needs.